As a landscape business owner, your plate is full. You have a team of employees to lead, equipment to maintain, customers to please, and new business to win.
Outsourcing bookkeeping for your landscape business is a natural and productive next step for you to take as an owner. Taking this detailed, vital yet time-consuming bucket of work off of your list of responsibilities will provide freedom while ensuring accuracy. Bookkeeping mistakes can be detrimental and costly in both money and time – two of your most precious resources as a leader. Just as you'd consult with a doctor to make a plan for alleviating physical pain, a professional bookkeeper can build a strategy to keep your finances healthy.
When you task someone else with maintaining your cash flow, you can invest your energy and time pursuing other aspects of your job that only you can do. Or – you can finally enjoy the fruit of your hard work. You can rest assured that your books are accurate. Unwelcome surprises will become a thing of the past. Plus, you'll gain a strategic partner who can help you identify ways to increase profitability.
Partnering with a professional can eliminate the chaos and headaches triggered by bookkeeping for landscaping businesses. Again, as a doctor can give advice for avoiding injuries and illnesses, a bookkeeper can keep your profits on track. It may sound counterintuitive, but outsourcing your bookkeeping actually places you in the driver's seat because you'll gain an accurate understanding of your finances. When it comes to money, the adage is true: knowledge is power. Outside professionals can work with you to assess your current financial situation and design a path toward increased profitability.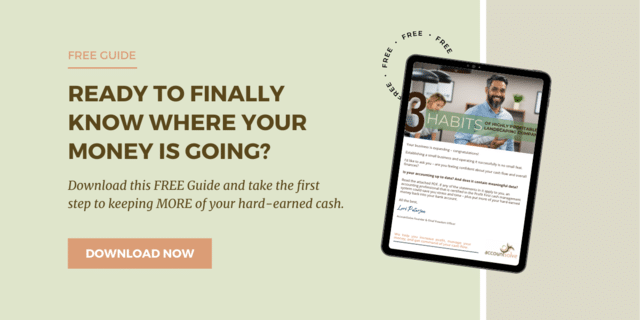 Here are some of the benefits of outsourcing bookkeeping for landscape businesses.
Strategic Planning
Partnering with a bookkeeper means that someone else is designing a cash flow system that will work for you. You can focus on all of the other details of leading a landscaping business, leaving the bookkeeping to a proven professional. Like a physician, we will zero in on your pain points and build a cash management plan that works.
You'll no longer need to stress about the off-season because you've hired someone to help balance your cash flow all 12 months of the year. Professionals have devised strategies for many other businesses to keep them in the black all year long. With a seasoned strategic partner at the helm, you won't have to fear the financial implications of bad weather or slow business months.
Real-Time Reporting
Let's be honest. Maintaining financial records is not the most glamorous part of your job. Plus, unlike working directly for clients, it doesn't equal billable hours! However, having an accurate understanding of your finances at all times is essential in order to make the decisions you need to make as a landscape business owner. You need to know what's in the bank before you can decide to purchase new equipment, offer a raise, increase your advertising, or make any other purchasing decision. Instead of continuing to put off budget reconciliation and recordkeeping in favor of more exciting or lucrative tasks, outsource it. Then, when the time comes to make a choice that has a price tag attached, you will be educated and feel confident you're making an informed decision. Your bookkeeper is on call to pull reports and projections at any time, equipping you with the history and foresight you need to lead well.
Accuracy
Finance is an area where inaccuracy can be detrimental (and expensive!). Overlooking a loan payment, miscalculating a transaction, or making a mistake while filing taxes can result in significant fees – or worse. Hire a professional bookkeeper who is well versed in all things accounting and can whip (and keep!) your books in shape. When you outsource bookkeeping for your landscape business, you place the burden of accuracy on someone else's seasoned shoulders and equip yourself for success. You're paying someone else to perform due diligence for you. A professional has the tools and experience to ensure all transactions are managed and recorded correctly, leaving no room for mistakes. Plus, we can identify past errors and build systems to avoid repeating those pitfalls.
A Support System
When you outsource, you're gaining much more than simply a bookkeeper for your landscape business. You're inviting a trusted advocate to your team who will bring years of experience, skills, and wisdom to the table in order to help you succeed. Your representative will respond to your questions within 24 hours, offer solutions to your challenges, and help you create systems and processes that work for you. No two businesses are exactly alike, so no two businesses should have the exact same bookkeeping systems. Your plans will be customized, and you will have a person – not a machine, chatbot, or auto-recording – to guide you each step of the way.
Peace of Mind
Outsourcing bookkeeping for your landscaping business equals peace of mind. When you work with a professional, you're inviting in a partner who can chart a path forward, offering ideas and options you may not have considered otherwise. You're also choosing to sidestep the potential for costly mistakes and stress. You can sleep well at night knowing someone else is crunching the numbers for you – literally – and keeping your hard-earned money on track. Once you delegate bookkeeping and have a clear picture of your financial state, you can make plans to take your business to the next level. You can get out of the rut of simply paying bills and instead can begin to dream again.
More Cash
Ultimately, we want you to pocket more cash and increase the profitability of your landscaping business. Outsourcing your bookkeeping means wishing those razor-thin margins good riddance. By streamlining processes and identifying inefficiencies, you'll have more money in your pocket. Profit First Professionals are trained to find ways for your landscape business to operate more efficiently. The Profit First system we employ is designed to ensure that businesses have profitability from their very next deposit forward. Your business should be profitable no matter what time of year it is or what the weather is like. Don't spend another day feeling like you're working too hard for too little return.
You deserve to keep more of your money. The AccountSolve team would love the opportunity to remove the burden of strategy from your weary shoulders. Schedule a call today so we can get you back in command of your finances – and your future.